Sometimes you just have to review a product.  This is one of those times.  Not because I have to review it.  I really want to review it because I have a story to share with you about Pigs and Fleas.
About a month ago, I had a birthday.  We were planning on going camping and set out to go to one of our favorite spots in the mountains.  We loaded up our Ford Explorer and a small. light trailer, and we went on our way.  It was a hot July day and we couldn't wait to get to the cooler temperatures and enjoy ourselves for a couple of days away from everything and everyone except family.
Things were going fairly well and we were almost to the top of the mountain, when we had a not so small mishap.  It seemed that our transmission gave out and my husband skillfully backed us into a small pull-off on the side of the mountain.  We were stuck.  The rest of our party had gone on ahead of us and we had no cell phone signal to tell them anything was wrong anyway.  What could we possibly do?
We decided to pull out our scriptures and to have family prayer.  We were at least calm after that.  After some time had passed, a man stopped and we felt good about letting my husband go down the mountain until he could get a cell signal and call for help.  My son and I stayed behind with our vehicle and the trailer.
I knew it would be a long time until help arrived for us so Chandler and I settled in for a long wait.  We decided that it would be fun to play a game or two while we waited.  We were trying to make lemonade out of a rather crappy birthday. Chandler wanted to play a board game, but I told him there was no way we could play that in the front seat while we waited.  I suggested that we try out the games I had received from R & R Games, Inc. instead.  Then we had a choice to make:  Pigs or Fleas?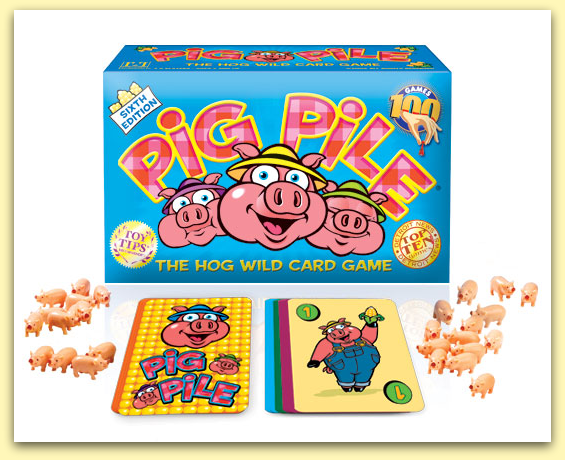 Pig Pile is a fast paced game for 3-6 players, ages 7 and up.  The object of the game is to corral the most pigs.  From the website:
Get rid of your cards first and be awarded the prime pile of pigs. Sounds easy, but pigs can be slippery! The more cards you have, the better your chances of calling out HogWash! and clearing away the deck! But don't hog the cards too long or you'll get stuck. The player with the largest stockpile of swine after the final round wins.
The game comes with 80 cards, 40 small pink pigs, and illustrated instructions.  The game retails for $15.95.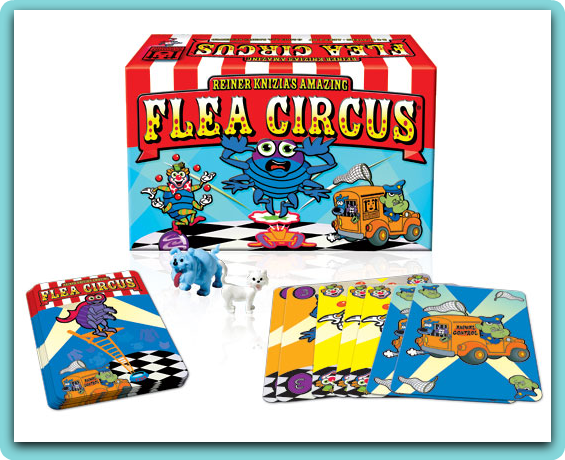 Flea Circus is a for 2-6 players, ages 6 and up.  The object of the game is to end up with the most cats and dogs.  From the website:
Players use their best Flea Circus acts to attract the most cats and dogs. Play your cards right and you can steal the audience away from your neighbor! But watch out for the Animal Catcher… He'll snatch your cats and dogs away!  When all the cats and dogs are gone, whoever ends up with the most animals at their show wins the game!
The game comes with 55 cards, 20 rubber cats, and 20 rubber dogs.  This game also retails for $15.95.
We decided to start our fun with the Fleas.  We laughed ourselves sick as we both tried to collect the dogs instead of the cats.  Chandler was very lucky and kept getting cards where he could steal my dogs, or make me return them to the center.  We played a few rounds of this game, and then decided to try our hand with the pigs.
Pig Pile is meant to be played with 3 to 6 players.  We didn't have a 3rd player, so we just adapted and made the best of it.  It was a fun game, and we had to play 3 rounds so we could break our tie.  We had a lot of fun playing this game too.
We decided after our adventures with Pig Pile that we needed another go with Flea Circus.  We had so much fun and played by lantern light as we waited for help to arrive.  We loved our game time and it managed to salvage a rather horrible birthday.
R&R Games is graciously offering a 20% discount to anyone purchasing Pig Pile or Flea Circus through the TOS Homeschool Crew reviews.  Just enter the coupon code, CREW20, to receive the discount now through December 31.
You can read what the Homeschool Crew thought of the games from  R & R, Inc. on the Homeschool Crew Blog.
*Disclaimer: I received a free copy of Pig Pile and Flea Circus from R & R Games, Inc. in exchange for this review. No additional compensation was provided and the thoughts expressed are my own.*